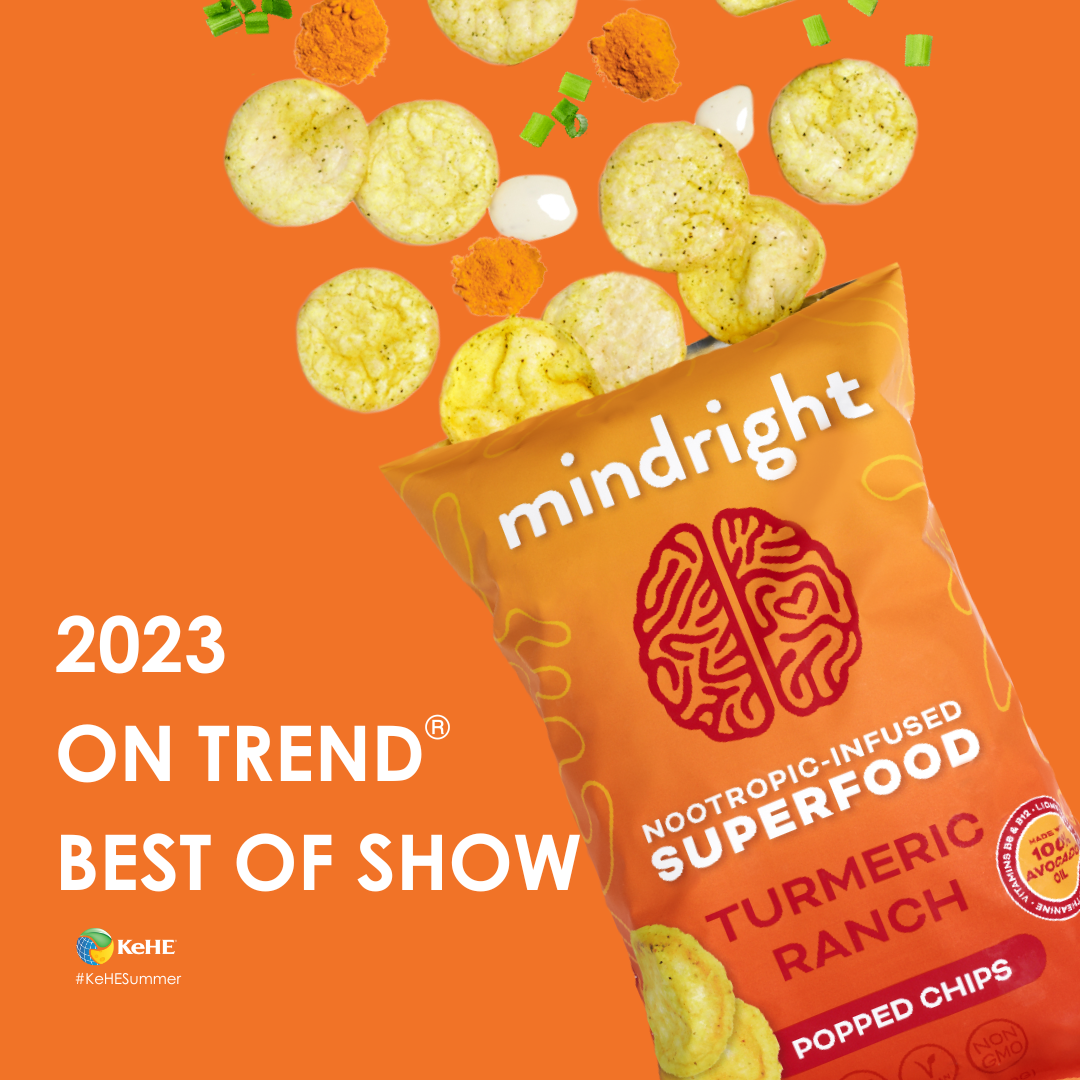 Our team here at Mindright is honored to announce that our Nootropic-Infused Popped Chips won the On Trend®️ "Best of Show" award at this year's KeHE Summer Show!
KeHE is one of the top food distributors in the nation that specializes in organic, natural, and specialized brands. They have over 6,800 employee-owners and are a Certified B Corporation in over 30,000 natural food grocers. Their goal is to help brands like Mindright and others gain recognition for their hard work and mindful products.

"Innovation, purpose, ingredients, and salability" were the prime deciding factors between over 100 companies when carefully assigning this exclusive award. The On Trend®️ Best of Show title is given only to brands that exceed expectations and stand out from the rest. Mindright is thrilled to be recognized by KeHE, and we can't wait for what is in store next!

In addition to the On Trend®️ "Best of Show" award, Mindright is part of KeHE's Elevate Program.

KeHE elevate™ is a high-touch, intimate network comprising 200 brands or fewer. These brands are provided platforms of growth as KeHE's Category Management acts as trusted mentors.

With Mindright as a part of this program, KeHE seeks to help us reach our full potential and provide Nootropic-infused snacks to the masses! This program seeks to benefit the public by promoting brands that have true innovation and aim to fulfill their consumers' desires.

A huge thanks to KeHE for this honorable recognition. We are proud to be considered a new, cutting-edge, exclusive brand by such a reputable distributor.

Shoutout to all of our Mindright crew for supporting us! We continue to pursue our mission of fueling your mindset with the power of a nootropic-infused superfood designed to boost your mood, energy, and focus. We believe that once you get Mindright, everything else follows.
See the KeHE Summer Show 2023 Day 1 winners here!