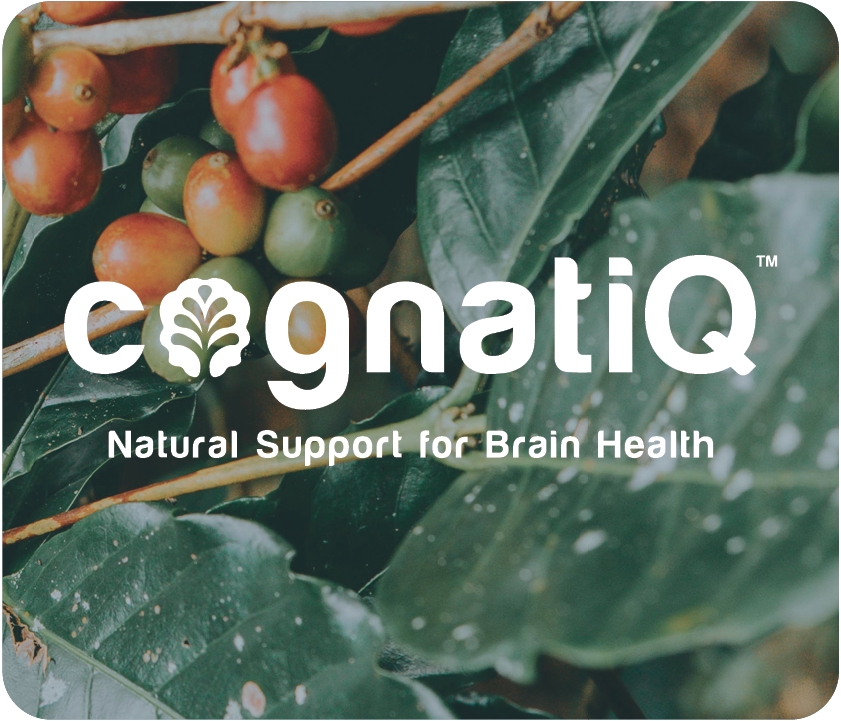 A Better Brain for a Better You
We're always on the search for the best natural nootropics to support a healthy mind. Which is why we are so excited for our latest brain-boosting nootropic addition -whole coffee fruit extract by CognatiQ®, a patented coffee fruit extract that combines the best of nature, and science, to support your brain's health and performance. 
• Boosts a key neuroprotein - repairing your brain's pathways
• Increases brain connectivity
• Improves brain performance quickly, plus over time
• Effective at a daily 100 mg dose (found in Mindright Bars!)
• Backed by 5 directly studied, and published, human clinical trials
A Better Path to Wellness
CognatiQ is derived from coffee fruit. It is specially developed and patented to support a sustainable path that rescues and preserves the coffee fruit, keeps it from the waste stream, and concentrates its unique and powerful phytonutrients for better brain performance. CognatiQ is fully soluble and efficacious at a low dose of just 100mg, making it versatile in a variety of applications and market solutions. Mindright bars contain this FULL daily dose of 100 mg!
CognatiQ is available in our Brain Boost & Superfood Protein Bars:
Proven Health Benefits
The coffee fruit, (also known as a coffee berry) is the fruit that surrounds the coffee bean, and it is often discarded during the coffee production process. However, the extract of the whole coffee fruit has been found to contain a variety of beneficial compounds, including polyphenols and other antioxidants. The harvesting of whole coffee fruit is not only sustainable, with less waste, but also good for your brain's health!
One of the key benefits of whole coffee fruit extract is that it has been shown to support brain function. A study published in the Journal of Alzheimer's Disease found that whole coffee fruit extract improved brain health in adults with mild cognitive impairment. Specifically, the study found that participants who took whole coffee fruit extract showed improvements in attention, executive function, and processing speed compared to those who took a placebo.
In a world full of processed foods, processed meats, fried foods, refined carbohydrates, trans fats, and other harmful ways to attack our health and immune system, it is important that we look to natural ways to fuel our mind and bodies. The use of whole coffee fruit extract, especially in the premium form offered by CognatiQ, can help to support a healthy mind, improving your mood, and even reduce inflammation while supporting your immune system. Mindright strives to find and deliver these time-tested natural remedies for your use in the form of healthy, functional snacks!
Naturally a Better Brain
CognatiQ® is a natural, non-stimulant solution derived from coffee fruit that has been clinically shown to work with our body's natural pathways to increase BDNF levels (Brain-Derived Neurotrophic Factor, is naturally produced to repair pathways in your brain and stimulate learning and memory). Further research shows significant increases in brain connectivity within regions involved in attention, focus, and working memory. These cognitive functions work together to promote better brain health and performance.
Top benefits of CognatiQ® Whole Coffee Fruit Extract:
• Improves attention, focus and alertness.
• Improves processing speed and accuracy.
• Supports mental stamina.
• Increases Brain Derived Neurotrophic Factor (BDNF) levels.
• Increases connectivity in regions of the brain associated with working memory and executive function.
• Works quickly, supporting improvements to cognitive performance.
• Supports continued improvements to cognitive (brain) performance.
 
Perform as a Better You
Multiple clinical studies demonstrate that CognatiQ® improves measures of cognitive performance in human participants within hours, and over time with daily use. With CognatiQ, you can help your brain perform better, and maintain performance over time. 
Shop our bars for your clinically studied, fully-effective clinical daily dose!